Custom Street Rod
1957 Ford Ranchero – Wickedly Different
Paul Kistler's Ford Ranchero is not your average hot rod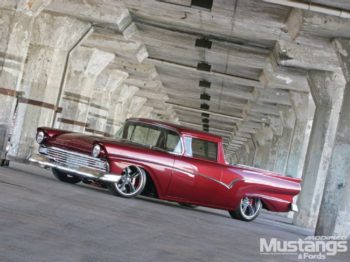 Car projects often begin with an idea or a dream. Oftentimes it is a vision that bounces around in our heads from day to day, but one that never quite fades away. Eventually, and hopefully, we are able to turn this vision into reality one day, though it may take some time to materialize into physical form. Monroeville, Ohio's Paul Kistler had a vision of a hot rod that was different from the rest; something that stood out in a see of more popular models. Paul's vision focused on a 1957 Ford Ranchero, and it was about to materialize into the creation you see before you.
"I always liked that 1957 Ford body style, and that was the only year with the single headlight," says Paul. "I always like the Ranchero and El Camino body styles, too, and wanted something that was different from what most people bring to shows. I didn't want another 1957 Chevy, but something that would get people to stop and admire it for its rarity." With that concept firmed up, Paul jumped on eBay to search for the perfect candidate, and he found one in Toledo, Ohio, not far from his home.
After making the purchase, Paul drove the Ranchero home, taking in all of its idiosyncrasies along the way. The car had undergone a '60s-era restomodification at some point, and it's black over red velour interior appearance told much of the story. Originally a California car, the Ranchero was in pretty decent shape from a rust standpoint. The engine bay was another matter, having been the recipient of a cobbled together 289/automatic drivetrain upgrade.
"I had every plan to have it nice, but the builder went far and beyond what I expected it to be," Paul notes.
If you ask us, the builder had no choice, really. Paul, who builds top sprint car engines for the likes of NASCAR legend Tony Stewart, already had gathered the parts for the Ranchero's engine long before he bought the car, and Bonnell's Rod Shop would be remiss in not creating a suitable vehicle to slide over the SOHC FE powerplant.
Starting with an FE kit from Dove manufacturing, Paul gathered the rest of the needed parts and built himself a 496 cubic-inch overhead cam engine. Putting it to the test on the Kistler Engines' dynamometer, Paul was rewarded with 751 horsepower and 656 lb-ft of torque. Not bad for a car he planned to drive to car shows, but certainly representative of his capabilities as an engine builder. Wanting a modicum of decent fuel mileage, Paul added an EFI system from Fuel Air Spark Technologies.
"I work around race cars all the time and didn't want to have to mess with a carburetor." Paul also used the company's distributor-less ignition system to help clean up the engine a bit. The ignition change required a bit of fabrication to the cam covers, including welding and tapping the covers for the coil mounts.
Bonnell's Rod Shop (Fairview, PA) was given the task of slipping the Art Morrison Enterprises chassis underneath the truckster, and whipped the body into shape as well. The staff there also fabricated the engine bay to hug the SOHC engine ever so slightly, and moved the front bumper out 2 inches to line it up with the protruding headlights. The colors on the Ranchero came from both Paul and the Bonnell's staff. Paul had seen the top color on Tony Stewart's Old-Spice-sliveried sprint car, and Bonnell's chose the darker lower color to accent the brighter top hue. For us, both colors, and the combination of the two, are simply delicious looking, and definitely class up the exterior appearance.
With the Ranchero now finished, Paul, his wife Sue and son Brian, have been able to enjoy the hot rod, and we caught up with them at the 2012 Good Guys show in Columbus, Ohio, where the Ranchero received the Hot Hauler Award! We're sure there are more awards to come for this wickedly different ride.
1957 Ford Ranchero Photos
The Details
Paul Kistler's 1957 Ford Ranchero
Custom Street Rod Specs
Engine
496ci FE, Dove Manufacturing aluminum block, built by Paul Kistler of Kistler Engines Inc. (Fremont, OH)
4.250-inch bore
4.375-inch stroke
Forged steel crankshaft, internally balanced
Eagle I-beam 6.700-inch connecting rods
JE pistons
Dove SOHC aluminum cylinder heads, ported and polished, Ferrea 2.300-inch intake/1.900-inch exhaust valves, Isky coil springs, T&D 1.32:1 rocker arms
Competition Cams camshafts, 268 at 0.050/0.482-inch lobe lift
Hogan-fabricated aluminum intake manifold
F.A.S.T. EFI system with 102mm throttle body, 60-lb/hr fuel injectors, coil-on-plug ignition
MSD Ignition coils
Owner-fabricated dual air filter assembly
10.5:1 compression ratio
751 hp at 7,000 rpm
656 lb-ft of torque at 5,100 rpm
Transmission
Performance Automatic C4
11-inch, 2,500-rpm stall converter
Gear Vendors overdrive unit
Rearend
Art Morrison 9-inch rearend
4.11 gears
Traction-Lok differential
Exhaust
Custom stainless steel headers fabricated by Bonnell's Rod Shop, 1¾-inch primaries
Stainless 3-inch exhaust with Stainless Works mufflers
Suspension
Art Morrison
Front: Double A-arm with Strange Engineering coilover shocks
Rear: Tri 4-Bar with Strange Engineering coilover shocks
Brakes
Front: Wilwood disc, 13-inch cross-drilled two-piece rotors, six-piston calipers
Rear: Wilwood disc, 13-inch cross-drilled two-piece rotors, four-piston calipers
QTM Sprint Car Dirt brake pedal assembly
Wheels
Front: Boss 338, 18×8.5, polished barrels with satin gray centers
Rear: Boss 338, 18×10, polished barrels with satin gray centers
Tires
Front: Mickey Thompson Sportsman SR, 26×8.00R18LT
Rear: Mickey Thompson Sportsman SR, 28×10.00R18LT
Interior
Customized by Bonnell's Rod Shop (Fairview, PA) in Pomegranate and Tumeric; Three Rivers Supply cut pile carpeting, bucket seats upholstered by Upholstery Barn (North East, PA); Summit Racing Equipment billet steering wheel (SUM-772715); Omega Kustom Instrument Co. gauges; custom dash, console, and door panels; Vintage Air HVAC; power windows
Exterior
Custom two-tone BASF Onyx waterborne paint by Bonnell's Rod Shop, front bumper relocated 2 inches forward, modified wheel openings
Do you have a custom engine project you want us to work on?
Call 419-332-1843 to discuss your custom project.
Credit
Author: Steve Baur Former Editor, Modified Mustangs & Fords
Photos By: Mark Houlahan