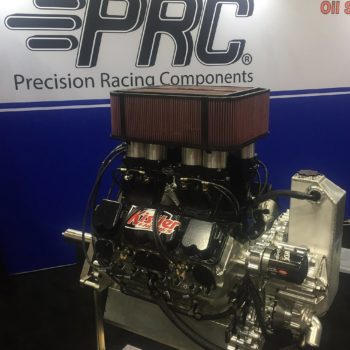 Kistler Engines and Precision Racing Components have teamed up to bring a new racing kit to the market. The new kit was released at the PRI in December 2019.
"PRC and Kistler Engines partnered to design and manufacture a fully integrated oil system and water pump kit. Using a systems approach, we designed the oil pump and front cover to encapsulate all oil passages in "tracks" to clean up excessive oil lines that are customary for sprint car engine builds," PRC stated.
They added, "This greatly improves safety and allowed us to go to a unique 6 stage oil pump. The collaboration with Paul Kistler's decades of experience has proved invaluable. We fully expect to see this package leading races in 2020 and exemplifies PRC's and Kistler Engine's commitment to innovation and excellence!"
These kits are available through PRC or Kistler Engines in 2020.
Features
– Integrated 6 Stage Dry Sump Oil Pump
with 5 sets x 1.5″ helical scavenge rotors
– Integrated filter mount in front cover assy
– Industry standard 1/2″ cam hex drive
– Integrated PRC water pump
– Integrated Dry Sump assembly
– Integrated Oil tank assembly